You're in the market for new doors. You might need new doors to provide greater functionality and versatility for your commercial properties, from exhibition halls to conference centers. And no other type of door might be more suited to your needs than an accordion door.
An accordion door provides instant space division, with ease. It is suspended from an overhead track, and simply pulled across the opening and latched in position. Most schools, conference halls, and hotels are likely to use this type of door since some spaces may have to be partitioned for various activities.
Instead of permanently establishing each space, accordion doors allow versatility and, therefore, better functionality.
To help you pick the right one, here are fast and easy tips for shopping for an accordion door.
Consider its use.
Is it for your home or for your business? These doors are designed and manufactured for residential and commercial use. The commercial accordion door may come in bigger dimensions to fit hotels and conference venues. Commercial doors will also be designed for heavy-duty use. Meanwhile, the residential accordion door may come in dimensions fit for any home, with basic features.
Make sure you get the right measurements.
Always get your measurements before buying the accordion door. You do not want to pick one only to find out that it's too big or too small for the space. Sure, you can always send it back for a replacement, but it's still a bother.
Ask about the tracking system.
Your accordion door supplier should take you through the features of the tracking system. Ideally, it will come with alignment channels and ceiling guards because these ensure that your accordion door will seal tightly and run smoothly. Also, the ceiling guard will prevent damage to your ceiling.
Think about the style.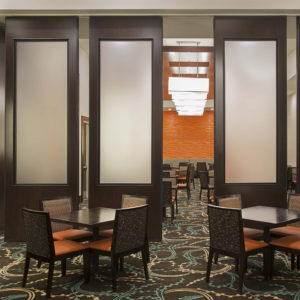 Do you want wood finishing on your accordion door? Do you have a specific color in mind? Maybe you want glass panels for the door? If you're looking for more specific, more design options, you may want to look at the operable partitions of Panelfold. The brand offers great selections designed for offices, conference venues, and hotels.
Aside from space division, think about other requirements for your accordion door.
Finally, an accordion door can do more than just divide spaces. It could also offer privacy. With soundproofing features, the perfect doors could work extremely well, providing silence and peace for frequently used spaces with multiple events that occur at the same time.